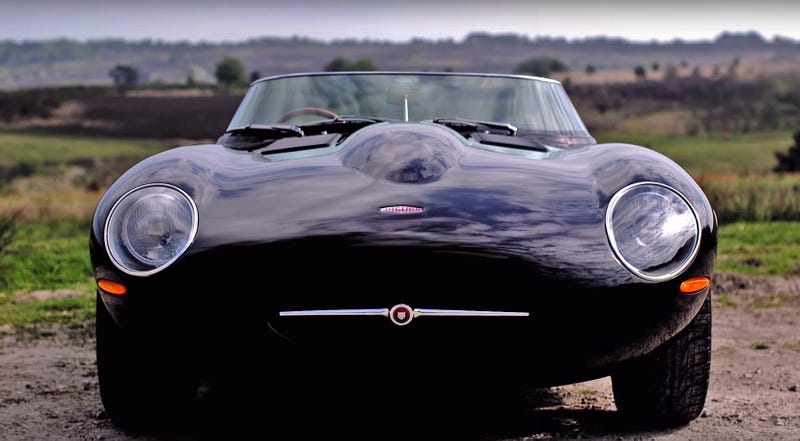 Hard to help falling in love with the Eagle Speedster. Look at those lines. The details. The bulge! And with the incorrigibly English Charles Morgan at the wheel, forget it. I'm dead. Take me away. Just please, oh please let me ride an Eagle in heaven.
Today's Nice Price or Crack Pipe Ford Gal… I mean, Mercury Maurad.. oh hell, this resto-ride... could be the best of both worlds, unless its price is the worst in the world.
M35 "deuce and a half" army trucks are surprisingly easy to come by. If you can't find one rotting in some farmer's field, there are always a handful selling cheap at auctions. But I've never seen one re-imagined as beautifully as this.
Everyone jabbers on about an Apple iCar, but what if Microsoft built a car? You'd get this — a 1967 Mustang body on a 2012 Mustang with blazing lights, Windows Phone controls, an Xbox 360, and tablets everywhere. Called "Project Detroit," it's actually the Windows Vista of Mustangs.
Building a restomod is straightforward: Take the body of a classic car and stuff it full of updated drivetrain and suspension pieces. While most builders start with Detroit products, England's Frontline Developments uses an MGB-GT and calls the stunning result the LE50.
The DIY Network's airing a five show segment of its Celebrity Rides program devoted to big Burt and his new Bandit. The Burt in question is of the Reynolds variety, and the Bandit is the YearOne TransAm restomod project. That is, the Burt Reynolds Edition TransAm, which YearOne creates from the bones of rescued…
Resto shop YearOne and Burt Reynolds have formed a holy alliance to revive a classic of such massive pop-cultural significance, no amount of throwaway hyperbole can do it Buford T. justice. They're planning to build a limited run of Bandit Trans Am models. As Autoblog reports, the cars will be created from original…