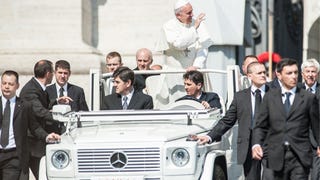 Pope Francis, a man who is actually known for his humility from time to time, is asking priests if they wouldn't mind driving a car that isn't so fancy, maybe from time to time, and would that be so bad, really?
The traditional saint invoked to deal with cars has long been St.Christopher, the patron saint of travelers and traveling. There were even relatively popular dashboard medals for the guy. But I just found out that as part of Vatican II in 1969 (my Vatican guy's not really on the ball) St.Christopher's feast day was…
Man, meet T-Rex. According to this billboard for the Petersburg, Ky. Creation Museum, the two walked together near the Rivers of Eden a mere few thousand years ago. Prepare to Believe.
Just because the glistening, gaudy megachurch he founded is about to be sold in bankruptcy does not mean that fancy religious man/teevee preacher Rev. Dr. Robert H. Schuller should have to give up his limo driver. God wants him to have nice things.
"If you love the Lord and love fast cars, this Honda S2000 is the car for you." For sale on AutoTrader, this S2000 is perfect for Jesus freaks with a need for speed.
Who knew cars could be religious? Apparently Proton's making a car they plan to build in Malaysia, Iran and Turkey — highlighted by an order to supply 5000 taxis to Teheran. Proton's claiming the car they'll be using to fill the order will be an "Islamic car." What makes it so religiously tag-lined? How about that…
Back when we were a collegiate Jalopnik at a Catholic liberal arts school in the East Bay, Ash Wednesday was marked by a number of our friends by getting together to watch the Evil Dead movies. We could never figure out anything to give up for Lent, generally as we were celibate (not by our own choice) didn't eat meat…
Yes, either the Pope didn't like the XC90 that Volvo sent over back in June, or the boys n' girls at Volkswagen are seriously worried over whether or not they'll be reaching the pearly gates. Maybe that's why the German automaker's giving his excellency a brand spankin' new 450 hp Phaeton. We're hoping, for Pope…