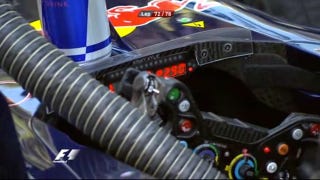 It is documented around that internet that Red Bull's mercurial world champion gives his racing cars tongue-in-cheek names in the tradition of pilots naming their fighters and bombers (and supersonic man-rockets). Here's the cockpit of Kinky Kylie, his 2011 car.
Originally developed for architectural photography, tilting and shifting lenses are much more than gadgets for turning cars into toys. Professionals even use them to document the ins and outs of Formula One. Mega-sized gallery below.
Red Bull Racing took the wraps off of its new 2009 F1 car, the RB5, at Jerez on Monday. We wonder if they'll try to add additional power to it with the little energy drink.