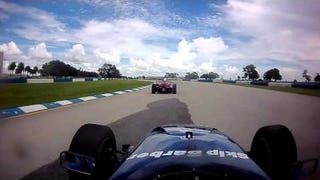 Part two of my quest to win the 2013 Skip Barber Indycar Academy takes me to Sebring International Raceway for the qualifiers- the Skip Barber 3-Day Racing School and the 2-Day Advanced Racing School. You can find part one here.
Ever wanted to start your own racing school? Now's your chance, Skip. For $80 grand, you can get four track-prepped Honda Civics, a Volvo semi and a support van. All you need is a team of steel-nerved race instructors, and you're in business.
OK, this isn't really Mr. T, but the picture, taken at the Bondurant driving school, was too good to pass up. Burnouts? Don't gimme no back-talk! Oversteer? Quit yo' jibba-jabba! Grr! You think those are socks? These are socks, fool!
If I beat Bob Lutz Thursday, most of the credit goes to Skip Barber and its Advanced Two Day Mazdaspeed Racing School. It transformed me from a safe-but-rusty track driver into one that's competitive and confident. Watch your ass, Bob.
Though slightly more expensive than most of the gifts making our annual "Holiday Gift Guide," a trip to the Skip Barber Racing School is kind of a dream gift. Whether it's just one day of hoonage in a formula 2.0 or a full three days of whipping an MX-5 around Road America, you'll make your significant other forget…