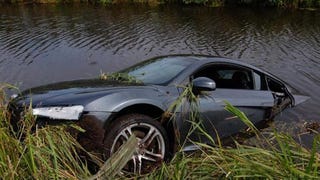 Apparently, the law of equivalent exchange is alive and well, for just as one
Ferrari Enzo is rebuilt
, an is destroyed... or at least it's really, really waterlogged. These pictures come from the Netherlands, where the straight, flat, canal-lined roads ultimately proved too challenging for the guy this particular…
We'd heard "Old Luxury" was pretty pissed over that whole turf war with Audi over luxury buyers since the Super Bowl. You remember, right? Yeah you do — that was when the Audi R8 dropped the horse head faux Bentley grille into "Old Luxury's" bed. Well, anyway, it looks like that hit they've had out there on the Audi…
Yes, it would appear that's an Audi R8 that's just burst into flames. No, we don't know exactly why. Yes, one of us is very, very, very sad. Although we remember a diesel V10 mule going up in flames earlier this year. Any connection? Again, we've no clue. But feel free to walk through these shots below to figure it…

There's no doubt at least one of us thinks the Audi R8's a pretty smooth looking sports car — and apparently so does the metal-faced gadget-obsessive Iron Man himself, Tony Stark. That's right, the Teutonic automaker obsessed with Bruce is teasing us yet again with the R8, product placing it in the new "Iron Man"…
Mark Phelan, the jovial auto critic for the Freep, and mortal enemy of Scott Burgess, auto critic for the Detroit News regular all-around good guy, is now, in a fit of Colbertism, dead to us. Those wacky kids over at Autoblog pointed out to us that he made the conscious decision to drive the Audi R8 to the Chrysler…
The spotting of the Audi for our wives continues in Michigan — this time coming to us via a double-shot from tipsters Marcin and Jason of a back-in-black R8 over near Pontiac and Auburn Hills. Here's the report from Jason:
You can run Audi, but you can't escape us — we want our !
We received this e-mail yesterday from Hoser Dave and momentarily lost it in the daily hail of e-mails and tips on whatever-aminos, newspaper articles and breathless solicitations for V1agra. Now that we've read it, we wish we hadn't opened it as it's only prolonging the suffering and misery.
We're going to go and…
Why does Audi continue to tease me with the R8? Can't they just give me a media fleet car for a week? Heck, even a long weekend — I wouldn't be upset with lopping a couple of days off the end (actually, yes I would) if it gives me a better chance of snagging one. But why must they continue to tease me? I'd been…
More Audi R8-spotting. This time it's on I-696 in Farmington Hills at around 8:30 AM. Hold on, I'll be back — I'm going to go and wait outside and see if it's coming down here to Royal Oak for me! Oh wait — who am I kidding? – Ray Wert
We're spotting the Audi R8 all around the byways of this great nation as it performs all sorts of mysterious tasks. OK, more than likely it's just making the rounds with auto journalists who'll be beating it to a living pulp and tearing it to pieces as they put it through its paces. Case in point would be these shots…