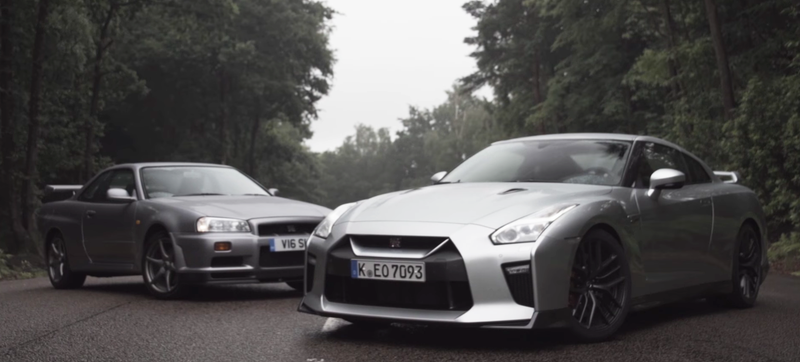 The R35 Nissan GT-R is only one generation after the R34 Skyline GT-R, but there really couldn't have been a more different car to wear the GT-R badge.
Okay, okay, so I promised you a Skyline, got your hopes up, and didn't deliver, but this really is a Skyline... Sort of. This R34 runs a Ford 410cu-in V8. Why the hell not? Take a look at how this black and green machine careens, and you'll wonder if its Frankenstein nature isn't just what the doctor ordered.
Brazen car thieves have stolen the R34 Nissan Skyline GT-R driven by Paul Walker in the latest Fast and Furious flick. The real crime? The sickos scratched a mint condition Studebaker Silverhawk. Video details below.
Paying attention last night? You may have noticed the first R35 GT-R wagon. Pretty good. What's better? How about this kickass, load haulin'-ready, driftin' R34 GT-R El Camino?
We knew the new Nissan GT-R (R35) was big, but putting it next to the last generation Nissan Skyline GT-R (R34) makes it look like a hulking behemoth. One would think the magic of perspective would slim it down so as to not look so porky, but the distance only seems to inflate the size. This is like one of those…
What we have here is a Nissan Stagea equipped with an RB26DETT engine and a helping of GT-R body components. We approve strongly (though we're torn about the flashy appearance- wouldn't a total sleeper be even more fun?), and if we had 3.8 million extra yen (about 35 grand in ever-weaker US dollahs) plus shipping…
As car legends go, few have had their flames as passionately fanned as the Nissan Skyline. Despite extensive research proving only seven Americans have seen one on the street, and four have actually driven the mythical machine, it's astounding how often its tale is told. We're reminded of a particular Jonathan Gold…
Continuing our current obsession with driver-POV videos from the N rburgring, we came across another clip that's been knocking about. The star of the show is a Nissan Skyline Z-Tune, a 500-hp, extremely limited edition of the R34 Skyline GT-R, though best supporting actor goes to the driver, who flexes mad skills on…