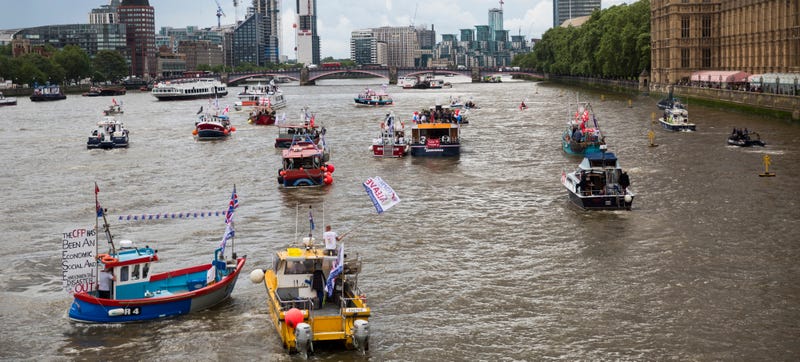 Irish rock singer Bob Geldof and British right-wing nutjob politician Nigel Farage have clashed on the waters of the Thames, with rival flotillas of boats locked in loud and absurd protest.
I don't like Uber. It's an apparently evil company that overcharges people and eschews accountability as often as possible. However, seeing an angry mob of cabbies descend upon and destroy a number of Uber cars in Mexico City actually made me feel bad for Uber drivers.
Canadian sports betting site Sports Interaction gained some notoriety last week when it offered 5.5:1 odds that martial law will be declared in Quebec. Those odds have since been removed, eliminating the one bit of Montreal Grand Prix-related gambling that interested us.
If you were stuck in L.A. rush hour last Friday, there's a chance you encountered the folks from Crimanimal Mass, who took to the freeway, on bicycles (and in-line skates), as part of some sort of demonstration. One of the organizers said the purpose was to raise questions of transportation infrastructure. Aren't…
A man in rural Kentucky, fed up by the high price for diesel, has decided to trade driving for riding. He'd rather fill up his horse with oats than spend $4.00 a gallon putting fuel in his truck, so he's riding everywhere in protest. This is easier for the gentleman because he's a sign painter and not, you know, an…