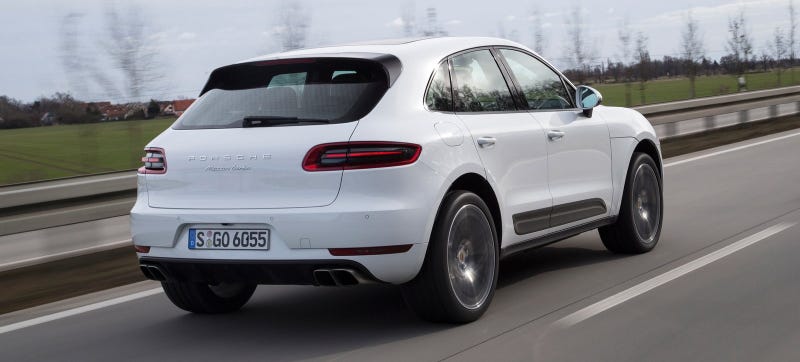 You there! Did you buy a Porsche Macan in April? Hey, there's a solid chance the answer to that is "yes." Last month, the German maker of sports cars and luxury SUVs had its best sales month ever in America, and it's all thanks to their new small crossover.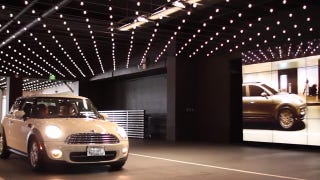 Automakers are always going on about "aspirational" cars, so Porsche devised a plan to stoke the flames, transforming unwitting shoppers' cars into the new Macan with its "Magic Mirror".
Well, not just any crossover but the 400 horsepower Porsche Macan Turbo, one which is faster than any crossover has a right to be. The good people over at EVO took a Macan Turbo and an M3 to create a highly useful piece of consumer advice.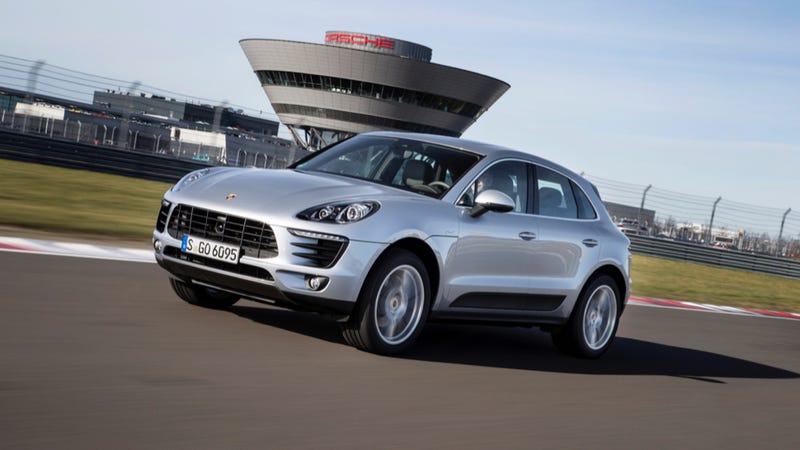 "It's the sports car in its segment." That's the phrase used to describe the 2015 Porsche Macan by Porsche management. But what, exactly, does that mean? And is this the sportiest crossover you can get?
Today at the official press introduction of the 2015 Porsche Macan, we learned Porsche's future product plan for their new baby SUV. And it includes electricity, oil burning, and fewer cylinders. Get ready for the variants.
Even though the 911 is the iconic Porsche and has always been equipped with a flat-six, loads of Porsches over the years have been equipped with just four-cylinders. After a 20-year hiatus, though, the four-cylinder Porsche is back – in the form of their LMP1 car and the little Macan.
The Porsche Macan is actually surprisingly compact, squat, and handsome in person. This 360 degree view should give you a better sense of how the car is more than just a shrunken Cayenne.
The Audi Q5 With A Bodykit, er, excuse me, I mean the 2015 Porsche Macan, is inching closer to production. Its power specs just hit the Internets, however, and the engines under the hood are most certainly not Audi Q5 With A Bodykit numbers. We're talking solid amounts of power for a small SUV.
As Porsche prepares the official unveiling of their Audi Q5 With A Bodykit, Belgian magazine DRIVR released this graphic on Facebook of what appears to be the Porsche Macan.
The 2014 Porsche Macan is coming, and Porsche is doing what it always does in that the marketing people hide the car because they're just so proud of how it looks, but this new teaser photo does show us that it's got these funky quad LED headlights. So hey, headlights!
A dealer presentation recently showed off Porsche's new models for 2014. Somebody in that presentation took pictures of it with a camera, which they probably shouldn't have done. And that means we have the first details on Porsche's newest, smallest crossover, the Porsche Macan. Read on for all that info.