It's official: Flying Lizard Motorsports is back in a Porsche. This 911 GT3 R will compete in Pirelli World Challenge's GTA class, per Sportscar365. Driver Andy Wilzoch has been running a Flying Lizard Porsche in club racing, but his move to PWC marks the Lizards' first pro racing Porsche effort since 2013. It just…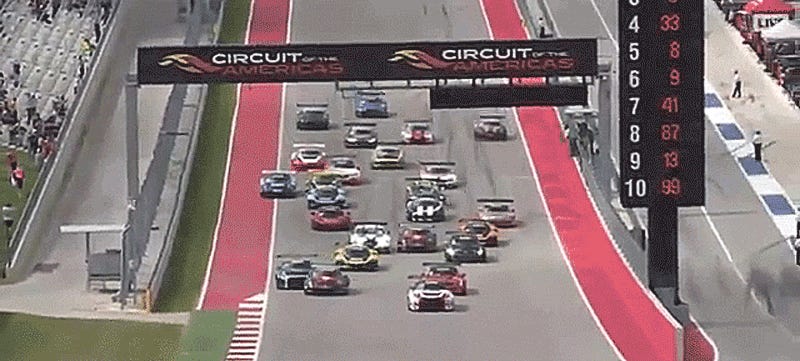 After some issues with standing starts last year, Pirelli World Challenge moved to all rolling starts for its flagship GT/GTA/GT Cup run group. Unfortunately, even rolling starts go wrong sometimes, as Porsche factory driver Patrick Long found out during Race 2 of the series' weekend at Circuit of the Americas.

The No. 73 Park Place Motorsports Porsche 911 somehow got routed through the infield access roads to reach its own garage for service. Patrick Lindsey had to be push-started before heading in for repairs, at which point he battled several fans' cars for position.

We're not going to tell you how it got there. We're not even going to tell you why it wasn't on the New York Auto Show floor. But we will tell you about the awesome techno-marvel that is its flywheel.
The main goal for the 2010 Porsche 911 GT3 R isn't more performance, it's drivability and "easier" handling, two thing the GT3 Cup S it replaces wasn't known for. Also, it's got a ginormous rear wing.