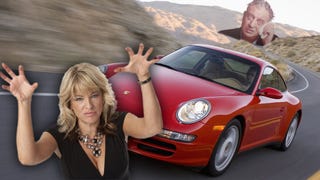 Having always driven mechanically dubious trucks, muscle cars and other beaters, I'd always wanted to try something faster and more sophisticated. Lucky for me, I met a cougar who owned a Porsche, and ended up getting to tear ass around L.A. in it, stopping by a $5,000 per plate Bel Air mansion party and Rodney…
The sky above Porsche's North American headquarters hosted a Mini banner this morning that read "Dear Porsche, Bring It! Love, Mini." It appears Mini isn't backing down from its challenge, even if Porsche is.
Porsche has declined Mini's offer to pit a 911 Carrera S against Mini Cooper S at Road Atlanta next week. Here is Porsche Cars North America President Detlev Von Platen explanation for why.
Mini is using the power of the Internet to challenge Porsche to a race, pitting their Mini Cooper S against Porsche's superior 911 Carrera S two weeks from today at Road Atlanta. Surprisingly, Porsche is actually considering it.
In case you missed it, the first episode of Top Gear Australia aired this week, and while we're still not sure how much we like the down under counterpart to the British original, it's still good entertainment. One thing we weren't sure of until we watched was what exactly the test track would look like. This clip…
Though we've yet to get our Cheeto-stained hands on the 2009 Porsche 911, the testers at Popular Mechanics had the chance to roam the Stuttgart roads in a few variations, finding the new model to be Porsche par excellence. They also found the new Porsche's wizardly dual-clutch PDK gearbox to be a vast improvement over…
Not only do we get news this morning of a whole host of upgrades for the 2009 Porsche 911 lineup, we now finally get a look at the facelift that goes along with 'em. Just as we saw in the leaked information from last month, the newly refreshed Porsches get power bumps across the range, thanks to a direct injection…