The Polaris RZR RJ Anderson punted through oversized bowls, 50/50 log grinds, and a series of other insane backwoods stunts (including a world-record setting 170' jump) was not exactly off the showroom floor. Here's a closer look at how one of the wildest small-scale off-road vehicles ever came together.
A year ago, Mad Media shot pretty much the craziest ATV stunt movie ever. Last week, they took it to the next level with a sequel. Now the driver, producers, and directors of "XP1K2" are here in the comments to answer your questions!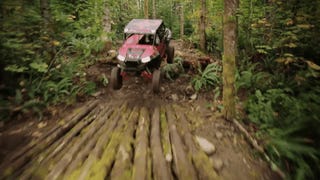 We've seen bits and pieces of the upcoming Polaris RZR hoonfest film known as "XP1K2;" but I hadn't been properly fired up about it until watching this trailer. This little ATV basically makes the forest its bitch– and every surface into a jump.
The 88th Pikes Peak Hill Climb will introduce the "Exhibition Powersport Class" for Utility Terrain Vehicles. Doug Siddens helped create the class and will be first to run with a modified 2009 Polaris RZR-S. Here's a little practice video.