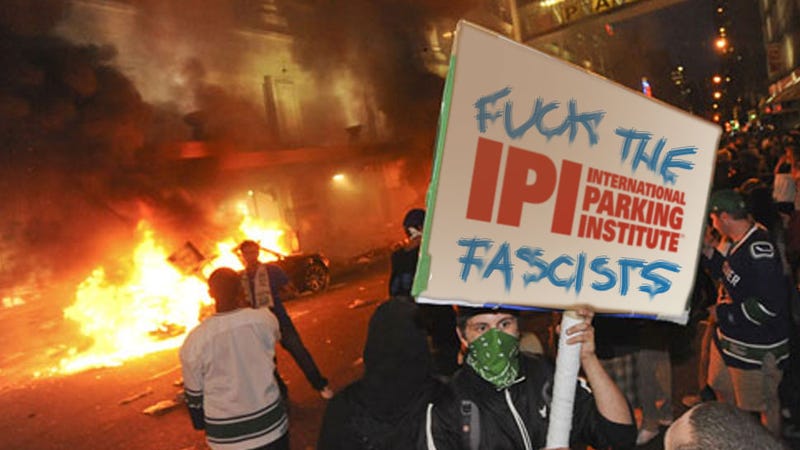 Last week, the International Parking Institute announced their 2015 Seven 'Best Places to Park' list, and the highly controversial results are sending shockwaves through an industry that is no stranger to drama, danger, and massive volatility. We at Jalopnik would like to issue a plea for calm and reason in the…
Members of the Goodwood Road Racing Club had the chance to display their rarest, most extraordinary and beautiful cars at the Chicane Paddock during the #73MM. But instead of checking that out, I went to the public parking lot to see what the common man uses when visiting Lord March.

This sad example of a driver in Russia just really tugs at the heartstrings. Try and try as they might, they just haven't got the foggiest clue how to exit an incredibly simple parking lot. And the entire time, the Benny Hill theme song mercilessly plays, over and over again, mocking their cruel parking fate.
Have you ever gotten lost, and you take like five right turns, and you hope you've escaped from the horrible maze you're trapped in, but you haven't, so you back up, and reverse, but then you're still in the same spot, and the maze is just a small parking lot? No? Then this video will drive you insane.
Newly released development plans of Apple's proposed corporate campus, which will look like a galactic portal and will be bigger than the Pentagon, hint at the company's peculiar indifference to cars.
Protected by 13 feet of concrete, the Führerbunker was a multi-story underground complex in Berlin that became the central nervous system for the last five months of Hitler's murderous Nazi regime. Now it's a parking lot. And until recently, you'd never even know it was once there. Here's how to find it.
NYC may have Central Park, but Houston's got... umm... parking lots. [Swamplot]
Would you look at this? Not only is this guy taking up a whole space, he's doing it by parking sideways. We hear this guy parks like this every day. Asshat! (Thanks for the genius photo Cody!)
It's hard to get excited about watching a video about a parking lot. It's a parking lot. People park there. And yet we've watched this video over and over again, it's strangely captivating. The video is the result of frame by frame capture of images in high definition with a dSLR every 15 seconds during the course of…
Parking lots don't always pave paradise, sometimes the pave over cellars. German archaeologists have discovered a 12th century cellar buried under a car park in Berlin. The find dates the founding of the city to a period roughly 45 years earlier than previous estimates. What makes the discovery remarkable isn't so…