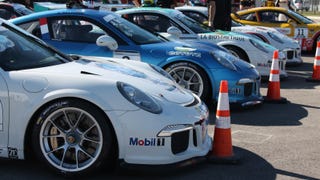 The latest article I came across on #millenials at Refinery 29 had a curious statistic: it now costs over $245,000 to raise a middle-class kid to the age of 18. That's an interesting number because it only costs $243,273 (before tax) to buy a new 991-generation Porsche 911 GT3 Cup.
What's it like to write, direct and star in your own car chase movie? What's it like to do so using your personal 650 HP Lincoln and 700 HP Baja buggy alongside Kristen Bell? The guy who does all that in Hit and Run, Dax Shepard, is live for the next hour in Kinja, answering your questions about anything.
A Florida Corvette driver and his 12-year-old son spent part of Thanksgiving with police after forgetting their beat-down of an 83-year-old man in a Target parking lot might be caught on video. Here's that video.