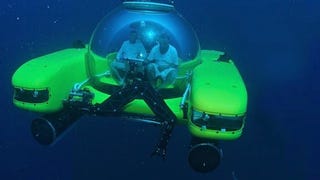 The Triton 36,000 is an amazing submarine. Previous generations of the Triton only went to 3,300 feet but the new model uses technology from Rayotek Scientific to make a passenger dome that reacts to increasing pressure from increasing depth by becoming stronger.
Heavy snow melt, moist soil, and North Dakota's peculiar geography combined over the weekend to turn the roads and fields around Fargo into a seemingly giant shallow ocean. Called overland flooding, it creates bizarrely apocalyptic scenes like this.
Accidentally drive into a river? Get caught in a flash flood and can't see daylight? Here's The Art of Manliness guide to escaping from an underwater car. Read it and don't drown! —Ed.