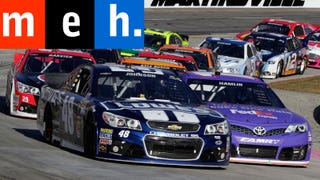 National Public Radio, better known as NPR, better known as the arbiters of everything in the universe that is cool to yuppies, is the latest news outlet to chime in and say that the American love affair with the automobile is over. Their reasoning? Because of declining NASCAR ratings, of course.
The Brothers Magliozzi, known to most of us as Click and Clack from NPR's popular "Car Talk" mechanic show, will stop recording live episodes of the program in September after 25 years on the air.
New York Rep. Anthony Weiner mocks the Republican party for trying to defund NPR by assailing Click & Clack, the lovable mechanic brothers from Car Talk. It didn't work, but the sarcasm is clearly strong with this one.
Our Pontiac top ten list made it into Kai Ryssdal's final note on yesterday's NPR Marketplace. Ryssdal expressed shock at the Fiero's inclusion. A lesson: never underestimate the staggering awesomeness of a mid-engined two-door. [NPR]
I'll be on NPR's The Bryant Park Project tomorrow morning at 8:00 AM talking about whether Japanese automakers create more environmentally friendly cars than American automakers. My answer will be a resounding no. Feel free to play along with some early morning shots of mimosa and some new rules in the comments below.…
Yeah, so, that Car of the Future episode of Nova with Click and Clack just wasn't all that good, sorry about that. The episode should probably have been called "Moments of forced laughter from two funny old guys in between John Lithgow talking down to the viewer about the car of the future". However, buried in the…
First it was ABC News. Now National Public Radio is getting in on journalism of the abundantly self-evident. The Tote Bag Empire's latest find? Thieves steal GPS receivers! Holy crap, sound the sirens, summon the SWAT team! The last time I checked, a thief will steal anything worth over $5 from a car. Okay, NPR, I'll…
What can we say? The people at National Public Radio love the smooth-voiced Jalopnik writers so much that they keep asking us onto their shows to talk Detroit Auto Show. First, Wert talked about Toby Keith & Humping Steers on All Things Considered, then went on to talk about Fashion Week For Cars for Make Me Care. Not…