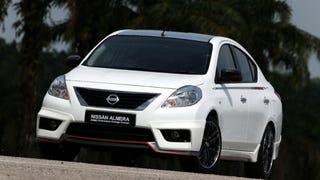 As you've probably heard, Nismo is the division of Nissan that's responsible for motorsports and hotting up their normal cars with performance goodies. On one end of that spectrum we have the upcoming Nismo GT-R; on the other end, we have this guy.
At this week's New York Auto Show, Nissan unveiled a new version of its Versa small car, letting them finally drop the stripped-down version of its Versa sedan, the lowest-priced new car on the market, with an advertised sticker price of $9,990. With its demise comes the death of the sub-$10,000 new car. Here's why…
Leaked trademark drawings of the built-for-China Nissan Sunny show us what the new Nissan Versa will look like. Moving on... [JokeForBlog]
To prove the black-and-white Nissan Cube isn't the only EV they're cooking up on the B-platform, Nissan's released one grainy image of a Nissan Tiida in electrified form. That's the Versa to us US buyers.
Nissan made some waves last month when they announced the Nissan Versa 1.6S, a car that would cost only $9,990 and snagged the unofficial title of "cheapest car in America" from Hyundai. The Korean automaker has struck back by dropping the price of their Hyundai Accent GS 3-door from $11,070 to $9,970, besting the…
In response to the Financiapocalypse, Nissan is offering 0% financing on five of their vehicles. Most interesting, and seemingly lost in the saved-by-zerogasm, is news of a lower-priced version of the 2009 Nissan Versa Sedan that, at an MSRP of $9,990, will be the cheapest new car in the USA.

These days, everyone wants to reduce consumption of foreign oil. Well, everyone but oil-loving Arab sheiks. That's the message we're getting after the Saudi broadcasting network became so outraged at the airing of the commercial above in Israel for the Nissan Tiida. The advertisement shows wealthy Arab oil barons…