Hello, welcome to our car website. Thank you for clicking. Here is the 2018 Nissan Rogue Sport, which debuted today at the Detroit Auto Show. I hope you will share this blog post on your preferred social media channels.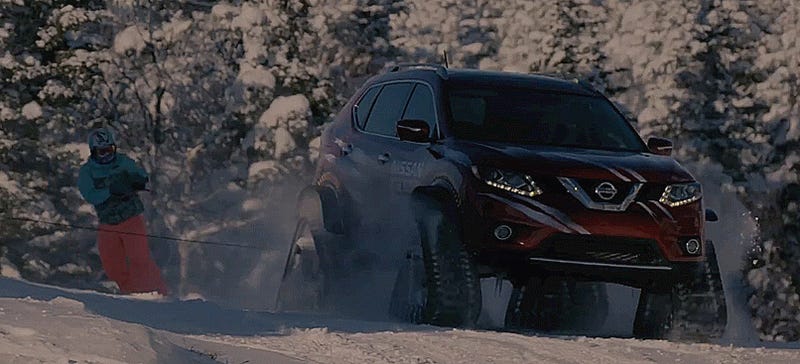 Sure, you've seen a Nissan Rogue. But have you ever seen a Nissan Rogue, on treads? Turns out little SUVs look way cooler without wheels.

There's a risk in critiquing any new technology as unnecessary because technology creates its own necessity. We all managed to live without smartphones ten years ago, now most young Americans couldn't do it. I don't think Nissan's "smart rearview mirror" — basically an LCD monitor instead of mirrored glass — is…
Nissan has partnered with Amazon.com to titillate the masses with yet another mysterious container holding a vehicles and other goodies. This time they've dumped a massive Amazon Locker in downtown San Francisco and have announced there's a new Rogue SUV inside.
By picking a name that sounds like a supermarket house brand, Nissan prolongs the life of a very popular, very anonymous compact SUV. While the company introduces the new, longer 2014 Rogue that now offers seven seatbelts, Nissan has quietly announced the current Rogue will soldier on and announced the 2014 Rogue…
The pun may be the lowest form of comedy, but it's an appropriate medium for mocking increasingly hackneyed car names. Can you get what they are before clicking on the picture for an answer?
Did you know the Nissan Rogue is responsible for funding the development of a cutting edge electric motorcycle? Even more interesting is why. You see, the name "Rogue" was initially intended for a V12 super car with 850 HP.
In response to the Financiapocalypse, Nissan is offering 0% financing on five of their vehicles. Most interesting, and seemingly lost in the saved-by-zerogasm, is news of a lower-priced version of the 2009 Nissan Versa Sedan that, at an MSRP of $9,990, will be the cheapest new car in the USA.

Who would've thought that canine hoons in Thailand would be the target demographic for the Nissan Qashqai? Maybe that's not what they were going for, but then the video does allegedly have a dog driving the small crossover through a ring of fire. Ok, so this video is blatantly soaked with CG, but you don't really…