"Wow," was all I could say, emerging from a Nissan GT-R for the first time. It really did exceed my expectations. Then I drove the Nismo version, one of about 60 that will come to the US this year. And sweet sweaty bear bollocks, the thing made me reconsider what I thought was possible on four wheels.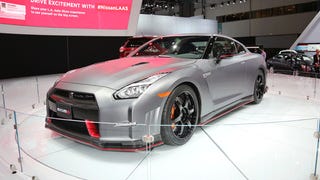 If you want so see what the brutal, relentless pursuit of speed looks like, find a Nissan GT-R Nismo. It's unreal.
The GT-R Nismo is ridiculous. Never again will people say the GT-R looks boring. And I'm willing to bet that people will not be calling this GT-R a digital appliance either. Nearly 600 horsepower will do that.
If you're at work, creating a spreadsheet or prepping a vital organ for transplant, please put down what you're doing. This 2015 Nismo GT-R's record Nürburgring lap is worth it.