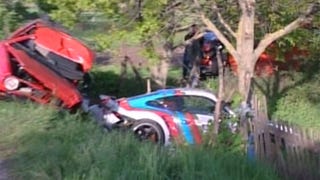 The Morley family has a released a statement of facts regarding the Macedonian trial of Nicholas Morley, which seems to jibe with what we've sussed ourselves about what went down the day before the 2007 Gumball 3000 came apart at the seams. According to the original accident investigator on the scene, as well as an…
After an excruciating month during which simple human tragedy clashed with hyper-sensationalism, political posturing, class warfare and judicial process, the Nick Morley Gumball 3000 crash saga is nearing a resolution. According to Alex Roy of Team Polizei, a court in Macedonia has found British Gumball driver Morley…
Despite the family of the victim reportedly forgiving driver Nick Morley for causing the deaths of Vladimir and Margit Cepuljoski, the trial is soldiering on, pitting defense forensics expert against prosecution forensics expert. According to Macedonian internet news agency makfax,
As you'd expect, the "facts" from…
The UK's Daily Mail is reporting, with typical Fleet Street flair, that the Cepuljoski family has forgiven Gumball 3000 participant Nicholas Morley, who as y'all likely recall, crashed into a MkII Golf driven by Vladimir Cepuljoski that had pulled out in front of his TechArt Porsche 911, resulting in the death of…
The trial of Gumball 3000 pilots Nick Morley and Matthew McConville regarding the deaths of two Macedonians during the Athens-to-Tirana stage of the rally begins Friday. If convicted, they face at least four years in a Macedon hoosegow. We'd be fascinated to see what the difference in penalty would have been if the…
That's right, the Gumball 3000 has now claimed a second civilian life.
With , e're waiting to hear what the Gumball 3000 leadership team's going to cite as the cause of death for Mrs. Chepunjoska in their next press release — massive hangnail? []
This news is coming in fast and furious on the story of the two Brit Gumball 3000 drivers involved in the fatal hit-and-run we've been reporting on hot and heavy over the past few hours. We've now got news that:
No word on what may have happened with Matthew McConville, but we're also hearing...
According to two sources familiar with the cross-Europe road rally, the car that picked up Nick Morley and Matthew McConville after the deadly hit-and-run incident we've been reporting on today was allegedly described as a Gumball BMW with Russian plates. That means it's more than likely the #19 Russian BMW...anyone…
According to posters on the official site of the Gumball 3000 race, they've now shut down the forum and stopped answering questions about the Nick Morley and Matthew McConville hit-and-run accident we reported on earlier. One source told us over IM:
We'll have more as we get it, but the race organizers have yet to…
We've been covering the Gumball 3000 up to this point with good cheer, and we'd hoped it would stay that way. Unfortunately, sometimes when you mix high-powered vehicles with the double dose of stupid — adrenalin and lack of sleep — bad things can happen. Like what appears to have happened with Nick Morley and…