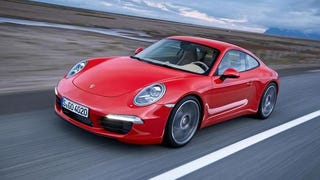 Yes, it's true. Those pics you saw of the 2012 Porsche 911 are the real deal, as Porsche confirmed this morning. With that confirmation comes copious new details on the new, 991-model Porsche, the most comprehensive update to the rear-engined classic in decades.
These appear to be the first photos of the 2012 Porsche 911 (Codename: 991), the new, 400-hp generation of Porsche's famous ass-engined sports car.
Be prepared fanboys, these spy photos of the next Porsche 911 show a decidedly fancy-pants interior similar to the Porsche Panamera. Vertu-style buttons, infotainment screen, polished steel and leather everything. It seems curmudgeon season will be fruitful this year. [Spyshots]
The 998 Porsche 911 was spotted out and about in some interesting camouflage while taking runs around Der Fatherland. Why do we say interesting? It's got a duck tail rear-end.
Porsche just released a set of three shots of their newest glass-roofed versions of the new 911, the 2009 Porsche 911 Targa 4 and the speedier 2009 Porsche 911 Targa 4S. Although we'd already spotted the new 911 Targas earlier this month, we're happy to hear the Targa 4 will get the new 345 HP 3.6-liter flat-six and…