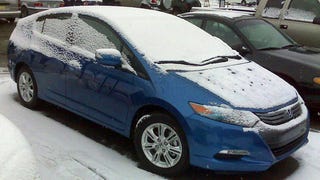 Intrepid reader Roger has captured what we believe to be the first shots of the 2010 Honda Insight in a ski resort town.
Like the green credentials and low price of the Honda Insight, but wish it had more fake chrome and add-on LCD screens? Well, if you're from a shower-averse European nation, you're in luck.
The 2010 Honda Insight looks like a cynical attempt to copy the Toyota Prius. It's not. Actually, the Insight is a very cynical and clever attempt to give Americans exactly what they want.
The 2010 Honda Insight has been revealed in production form today with only a few differences like normal tires and the front fascia losing some of the high-cost chrome the Insight was sporting in concept mode. Honda's new Prius-killer is expected to retail for around $18,500, massively undercutting the $22,000 Toyota…
Details on the instrument panel and driver assist systems on the new
2010 Honda Insight
have been released and it seems Honda is intent on training the new hybrid's drivers in much the same way other auto manufacturers have announced. The "Ecological Drive Assist System" uses a combination of color cues in the…
OK folks, now that the new Prius-fighter from Honda has officially seen
the sheet dropped
at the early this morning, it's time to ask the important question — which one will win? In one corner, you've got the long-time champion of the hybrid arena. In the other, the pugnacious new , determined to beat the Prius in at…
Honda pulled a fast one on us and gave its new Prius-killer a crazy dusted-off name — the
2010 Honda Insight
. While certainly not creative, the intent behind this vehicle is. At an expected price tag of $18,500, the new Honda Insight is expected to compete at a much lower price point than any other hybrid on the…
Honda has been diligently working on its Toyota Prius-fighter, a dedicated Honda hybrid expected to go on sale early in 2009. But they recently pulled out the trump card in this battle royal — a starting price of just $18,500. The five-door, five-passenger hybrid-only car will get to that low, low price point by using…