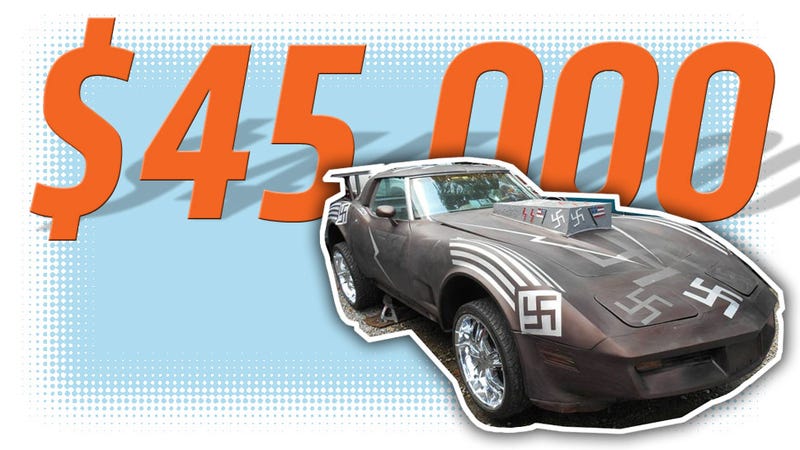 Normally, when you add swastikas to something, you can be assured that, yes, the most ridiculous, offensive part of that thing will be the swastika. Put a Nazi flag on a cheeseburger? The swastika is the worst part. Get a swastika face tattoo? That's now the worst thing about you. But this swastika-covered Corvette…
We've been talking about Volkswagen a lot lately, for pretty obvious reasons. And pretty often in all this talking, we've encountered a lot of references to VW's past, specifically the idea that the company was "founded by Nazis. :(" How true is this statement, really?
In an ironic twist, the National Socialist Movement of Colorado adopted a highway and the state, thanks to free speech laws, had to approve it. This means trash picking up trash! I hate Colorado Nazis... [KVDR]
According to The Times, Bernie Ecclestone warned Max Mosley, "that people had been hired to discredit him and that they had been given an unlimited budget to do so." The paper's information comes from a corporate spy who now feels remorse for trying to help the former Fascist Party member avoid the plot against him.
Drivers, team bosses and senior executives from major sponsors are making elaborate plans to avoid meeting or being photographed with Max Mosley during the Monaco Grand Prix. The May 25th race will be the first Mosley will attend since the Max Mosley Sex Video leaked. According to The Times, some teams are even going…
Ron Dennis has denied allegations that he was responsible for setting up the Max Mosley sex video scandal. It has been suggested that McLaren may have facilitated the News of the World investigation in response to the $100 million fine they received from FIA last year.
FIA President Max Mosley has been caught on film allegedly taking part in what UK tabloid News of the World has characterized as a "Nazi orgy." Although we initially thought it was the world's zaniest April Fool's joke, we were wrong. Sick and wrong. During the five-hour video, which the tabloid also has in…