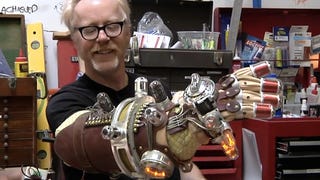 Being a genuine, card-carrying mythbuster is just about the best job anyone can hope for. And since most of us probably haven't managed to become one, we've got the next best thing—living vicariously through one. We're lucky enough to have Adam Savage from Mythbusters here to answer all your burning questions.
Someone tried to carjack Mythbusters co-host Kari Bryon last night, but she fought back and escaped with her car and her health. What a boss.
As many of you know, Jalopnik employs some very sophisticated user-monitoring software, so we know all about you. Which is why I feel confident in saying that, based on your demographic data, most Jalopnik readers will likely drive their cars deliberately into a lake, pool or other body of water at some point. And, as…
The team at legend-disproving show Mythbusters busted more than myths yesterday while filming a scene at a Northern California bomb-disposal range. Their homemade cannon launched a projectile past the range, through someone's house, and finally into a minivan.
The crew at Mythbusters finally tested out the Porsche 928 is faster backwards myth. Turns out the designers knew what they were doing all along, though I'd still rather have the 829.
Jalopnik commenter Scoutch has a day job many of us might try for free: Building stuff in the labs of Mythbusters. Check out his take on what's it like to drive a Porsche 928 with its body bolted on backwards.
The Mythbusters crew and Popular Mechanics will test later this month the old claim that the Porsche 928 could go faster if driven backwards. To do so, they flipped a 928's body to face the wrong direction.
Okay, Mythbusters has devolved into little more than explosion and crash porn rather than actual myth-busting. Our inner 12-year-old is cool with that. Here the boys investigate the physics behind crashing two cars head-on at 50MPH. Daewoo Nubiras, beware.
Popular Mechanics enlisted the help of Mythbuster Jaime Hyneman to answer that all-consuming transportation question: gas or electric? Using a collection of prototypes and production vehicles, the team set out to test compact cars, ATVs, motorcycles and go-karts head-to-head on-road and on the course to find out…