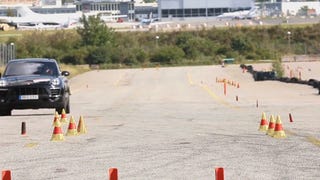 Swedish auto safety outfit Teknikens Värld are calling the Porsche Macan's performance "extremely strange" through their lane-change obstacle course they call "The Moose Test." Looks like the SUV's safety tech locks a wheel in a way other vehicles don't.
The Swedish Moose Test is infamous for finding stability issues in cars. It sounds silly on first hearing, but it actually makes a lot of sense. And this video, fittingly from Sweden, shows why it exists. Warning for the squeamish readers of the world: it's a graphic shot of a flying moose.
The 2012 Jeep Grand Cherokee, which is pictured above, didn't do particularly well in Scandanavia's industry standard Moose Test, which is to show how a car reacts when a moose wanders onto the road. Have they fixed it for 2014?
The people of Sweden enjoy a high quality existence that includes universal health care, neat names full of letters we don't get, and Ikea furniture. There is, however, one threat to the Swedish way of life that stands above all others. I am, of course, talking about Alces alces, better known as the moose.
A month ago, Swedish car magazine Teknikens Värld tested the Jeep Grand Cherokee with its famous "moose test," an evasive maneuver simulation. The SUV failed miserably, standing up on two wheels as it negotiated a tight turn.