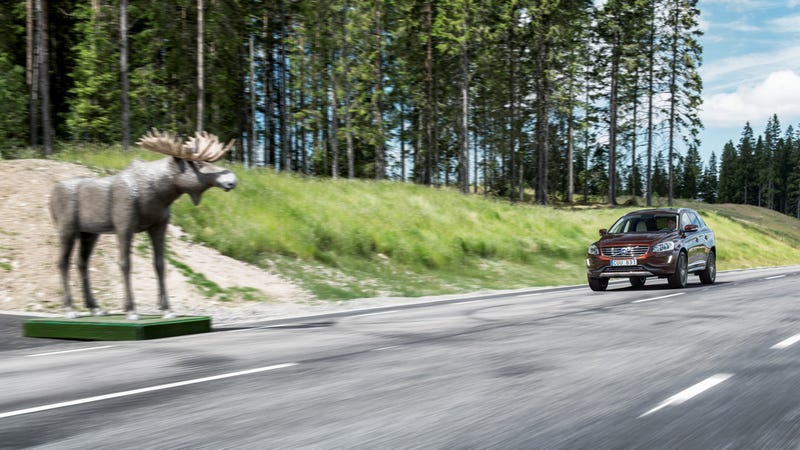 It's called AstaZero, a closed course where Volvo will test its future safety systems to ensure no one is killed or seriously injured in a new Volvo by 2020. These are noble goals and an amazing facility, but all I want to do is dodge faux moose on the skidpad in an over-endowed 240 wagon.
Unfortunately for Cpl. Craig Douglass of the Royal Canadian Mounted Police, real moose aren't as chilled out as Bullwinkle was. They're big, violent beasts and can put the smack down on a 5,000-pound car.
An unlicensed Montana teen was going 100 miles per hour when he reportedly hit a moose in Idaho's Silver Valley yesterday. To make matters worse, his whole family was in the car with him: two five-year-olds and three adults with suspended licenses who were all riding in the backseat.
A 16-year-old in Rolfstorp, Sweden captured this photo of the iconic Swedish car (the Volvo) being jumped over by the iconic Swedish animal (the Moose). It's a once-in-a-lifetime shot. (Hat tip to Hoccy!) [Hallands Nyheter (translated)]
Showing you what some automakers are doing with unsold cars revealed these reader-submitted shots of dozens of unsold Dodge Challengers stockpiled at an old Canadian military base. Apparently Chrysler's taking the Muscle Car Wars seriously.
When a Ford F-150 falls asleep, do you think its nightmares are haunted by a charging bull moose looking to violate its tailpipe? If not, this one's will be. An amorous moose was caught in the throes of passion in a parking lot outside of Hampton, New Hampshire and would not be dissuaded from his task by beeps from a…
Moose are proving to be the bane of the open road roadway. Before they were just eating our cars, now apparently they are committing auto-assisted Seppuku. After seeing those gloriously gory photos of a BMW being outfoxed by the local wildlife, reader Jeffrey Schmatz called us dainty little girls and sent in pics of…
We're not exactly sure what this sign really means — does it mean we should watch out for some kind of super moose that can destroy cars just by breathing on them? Maybe there's an undead moose with a hole in his head from some moose-hunter that's sniffing around demolished cars sitting on the side of the road…
This story, grim as it may be, reminds me of the William Faulkner quote, delivered in France in 1959 (the year Alaska and Hawaii were made the 49th and 50th states): "The difference between my country and your country is that we're still adding stars to our flag!" Yeah, Bill had had a few nips at the ol' flask by that…

The post was all ready to go. We were all ready to write about the new Jeep Patriot. We wanted to talk about how we saw one of the newest members of the Jeep family under heavy cover the other day outside the Big Buck Brewery in Auburn Hills, just across I-75 from the DaimlerChrysler Tech Center. We wanted to talk…