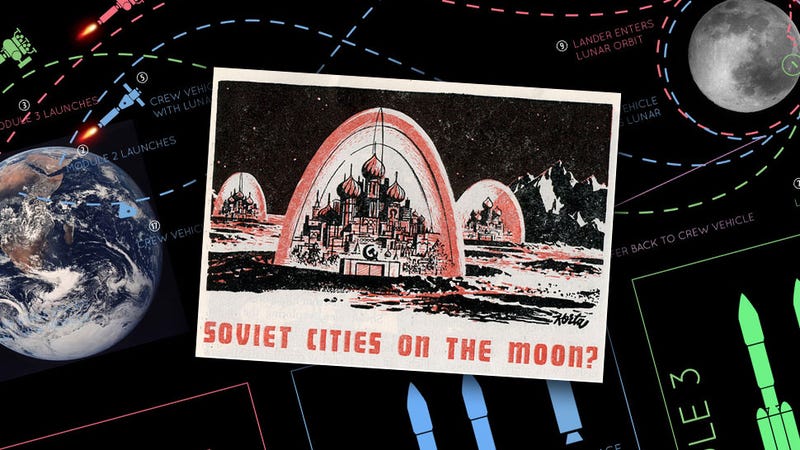 Decades and decades after they pretended never to be in a "moon race" with the U.S., Russia reportedly plans to land cosmonauts on the moon by the 2030s, according to the news agency TASS. The most recent plans call for up to six launches of the Angara A5V heavy-lift rocket to put enough hardware into orbit for their…
First of all, I should preface this by saying I'm no rocket scientist. Anyone who has ever seen me attempt to open a carton of milk can attest to this. But that doesn't mean I can't daydream. And today I'm daydreaming about how China could land on the moon as quickly and cheaply as possible. Within five years, let's…
Right now, sitting unattended and unlocked, in a pretty empty neighborhood, are three of the most valuable cars ever built — the lunar rovers from the Apollo 15, 16, and 17 missions. Those sweet, sweet mesh-tire'd rides could be yours for the taking — if you only knew how to drive one. That's where we can help.
There's been a bit of hooning on the moon before (Apollo 16, see below), but there's never been anything involving more than one wheeled vehicle that could really be thought of as a 'race.' But that looks like it's about to change, with the possibility of a three-way rover race coming in 2016. FINALLY.
Some of life's little surprises don't reveal themselves until you find yourself shooting footage of the Moon at night with a Canon 5D Mark II attached to a huge-ass Meade Instruments LX200 telescope. It's an airplane passing against the face of the Moon, its contrails black in the strange light. What a beautiful…
Editor's Note: This is the first of a new Jalopnik series called "Objects In Motion" where we pose car-related questions to our on-call physicist, Dr. Stephen Granade. This week we're asking him how to convert a car to work on the moon. —Ed.
Today, forty years ago, mankind took a giant leap and stepped foot on the surface of our moon. It's a perfect time to celebrate with a look back at the Apollo 11 mission.
NASA today released photos of their strange-but-functional next-generation lunar rover concept: the Small Pressurized Rover. Built on the NASA Chariot chassis, the futuristic rover is like a covered wagon for exploring new frontiers of the lunar environment. The SPR can be driven from inside without the need for space…

The collection of mechanical iconography and fine old junk that determines what is a hot rod and custom is at once ever changing and at the same moment forever etched in time - or sometimes a set of valve covers. A good lot of the very things visually say fast or custom grew from racing jalopies out on the street,…
We schlepped our draggin' bottom outta Pedro and on up to Whittier for the Mooneyes 2005 Christmas Party on Saturday, which was weirdly-enough held in the parking lot of the Sheriff's Academy. Do not ask us. We do not know. We did some elbow rubbing with the likes of J. Hetfield and Billy Gibbons and generally felt…