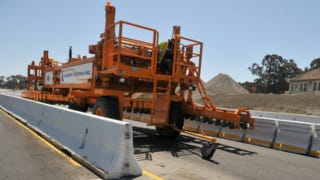 For years, San Francisco's iconic Golden Gate Bridge was a deathtrap. Cars would zip past one another at 65 MPH, separated by a thin line of yellow traffic cones, and head-on collisions were routine. However, a new barrier system—laid by a massive vehicle known as a Zipper Truck—will keep passing drivers from landing…
New York City's newest toy, a 110-ton, 300-foot-long Caterpillar boring machine named "Pat," will soon spearhead a $250 million water tunnel project. Digging a 12-foot diameter tunnel almost two miles long, Pat will create the replacement for two other, shallower tunnels currently in the way of expanding the port…
Last night, Juan Pablo Montoya lost control of his race car at the Daytona 500 and crashed into a pickup truck with a jet engine and 200 gallons of jet fuel, igniting the track in a superheated mess. But why the hell was there a helicopter engine strapped to a truck in the middle of a race?
The US military is serious about reducing its dependence on traditional fuel sources. Case in point: the FED solar and hybrid Humvees that will burn 70 percent less fuel than traditional armored troop transports.
It's Fleet Week here in San Francisco and that means Navy Flight Demonstration Squadron aka The Blue Angels are back in town for the celebration. This is what it takes to convert a battle-ready F/A-18 Hornet into a marvelous stunt-flying Angel.
It's how the LAPD's Future Cruiser hunts for stolen vehicles. And how toll roads and municipalities across the country control traffic conditions. It reads license plates like the Rain Man counted cards.
Tech puts us in a state of awe all the time. Sometimes it's the little things. The transistors. The immaculate pixels. The gorgeous lens. And then sometimes it's a humungous goddamn saw in Kazakhstan that obliterates everything in its path.
The Triton 36,000 is an amazing submarine. Previous generations of the Triton only went to 3,300 feet but the new model uses technology from Rayotek Scientific to make a passenger dome that reacts to increasing pressure from increasing depth by becoming stronger.