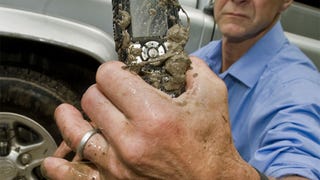 Land Rover partnered with Sonim Technologies to create this — the world's first IP-67-rated GSM mobile phone. The S1 is completely resistant to dirt, dust, drops and can be fully submersed up to 3.3 feet.
The NASCAR season is well under way and Sprint is gifting its NASCAR-fan subscribers with a free mobile service. NASCAR Sprint Cup Mobile is an application that displays all kinds of NASCAR information including rankings, video clips, live audio, driver statistics and more. Forget about my NASCAR, opinions, pro or…
I know we're often complaining about the high price of gas, but here's the proof that it's having an effect on the average consumer. A 65-year-old Michigan woman with no criminal record robbed a Sunoco with a toy-gun wrapped in electrical tape... only to drive three miles down the road to buy some gas.

Sure, we're behind the curve on this by a few months, but we're seriously considering taking the Jalopnik circus wagon on the road, as technologies like WiMax that enable truly mobile Internet access (that means no more working from Starbucks), get closer to reality. Forbes recently took a closer look at WiMax — our…