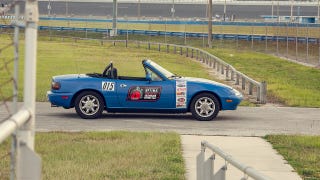 I really thought the high banks would be the most terrifying part of the Daytona road course, but I was wrong. It's easy to stick the throttle to the floor, stare out the side glass, and wait for the corner to wind itself out. It's harder to come down from 110 mph and make the next chicane on old, all-season tires.
There were cars at Daytona International Speedway—cars that Editor Zach Bowman and the 330k-mile Miata he drove over from Utah shared the banking with—that use more horsepower to turn their superchargers than our eyesore made new. Like an AMX that looked like it might run on boiled-down Miatas.
You've heard Texas is big, but you never know how big until you try to cross it in a tiny car with a failing AC compressor trying to reach the Daytona speedway in far-off Florida.
I left Los Angeles with a change of clothes, my cellphone and a trunk full of kitty litter. 328,000 miles on the clock for the Million-Mile Miata and one goal for me: Get it to the next idiot, he's going to drive it at Daytona.

This car has 324,000 miles on it. We bought it for $1,600, and we're going to drive it until the odometer rolls over. Want to help? We'll put you in the driver's seat. Shoot your ideas to millionmilemiata(at)gmail.com.