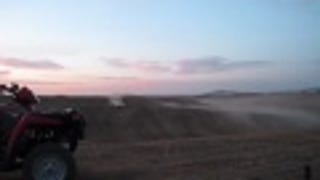 We're used to seeing Scandinavians jumping home-brew Volvos, often to their death, but this jump comes from North America and it's the longest Volvo leap we've ever seen. It is a tribute to the open expanses of this continent.
When you're rollin' Grand Marquis style in Kuwait, laughing at the suckas in their effete Benzes, you need to let the world know how you feel about… well, we can't quite figure that out.
The pun may be the lowest form of comedy, but it's an appropriate medium for mocking increasingly hackneyed car names. Can you get what they are before clicking on the picture for an answer?
Using a clever formula, Forbes created a list of vehicles with a sales value below its suggested retail value. Unfortunately, it misses one piece — why these vehicles suck. That's why we've created an index to explain it.
The two cowboy-hatted "Equine Entrepreneurs" at some point noticed the horse always seemed interested in tagging along whenever they went somewhere, so they modified their car to make it easy for Patches to do so. He apparently lives for a good cheesebuger and has put down as many as five in one sitting, doesn't like…
When we first reported on the sad story of a dead woman towed away with the car she died in, reports seemed to indicate that the first responders knew that there was a dead woman at the scene. According to the LA Times, not so much. In fact, it looks like there were firefighters on the scene for more than an hour and…