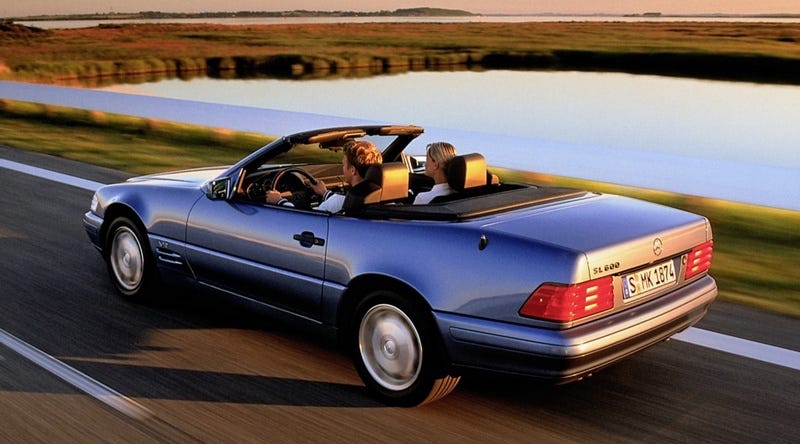 [Look at how happy these V12 Mercedes drivers are. I wonder where this car is now, and if it yet sounds like a Zonda. Photo Credit: Mercedes-Benz]
Behold, my friends, the Filandi Ever S. It started life as an SL (R129) roadster, but clearly car-god Automphilion (all hail the many-piston'd one) had other plans. Sinister plans.
Mercedes has a problem. The 2013 Mercedes-Benz SL is a volume tourer for the brand, but when someone becomes aware the SLS AMG exists they suddenly find it hard to find the SL interesting.
Mercedes-Benz is celebrating 60 years of the SL badge with the overhauled 2013 Mercedes SL, the first built almost entirely from aluminum. Let's call it Aluminum und Se… oh, wait... it's not an Audi.
A survey of Google Street View habits has shown Steve Jobs' home and Apple's garage birthplace are the third most visited locations by Briton's. Jobs was bested only by the White House and Hugh Hefner's Playboy Mansion. [CultofMac]
The busty castmember of some MTV show called "The Hills" drives around Beverly Hills in a white Mercedes SL. We're now hearing she's beginning work on her very own E! Entertainment Reality show named "Audrina." Wow, those nude photos of her that surfaced back in March of last year must really be helping the ol'…
Mercedes has finally revealed the new 2009 Mercedes-Benz SL65 AMG Black Series. Based on the recently revised Benz SL65 AMG, the newly blackened version will now be Mercedes most powerful production car ever. With the finely tuned and double-turbocharged 6.0-liter V12 under the hood, power is up to an astonishing 661…
We're running out of metaphors to describe the many ways that information, like water, leaks from automakers and bursts through embargoes. In this case it's a flood of pictures from the facelifted 2009 Mercedes SL, and we've got so many of them that we're tempted to start building a giant boat and filling it with…
The folks at Mercedes made the mistake of revealing their refreshed Mercedes SL roadster in a populated area and now the folks at World Car Fans have the pics. While this change is more evolutionary than revolutionary, you'll notice the more angular grille and front skirt. Those thick five-spoke wheels are AMG, maybe?…