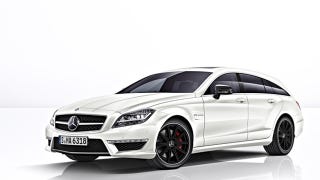 The Mercedes CLS Shooting Brake Concept (we don't care if Mercedes of China fucking mis-translates "brake" as "break," we don't regurgitate inaccurate marketing) previews styling of the next CLS and provides a sneak peak at at the upcoming CLS wagon.
We feel about the portly 5-Series GT the same way Indiana Jones feels about snakes. But the just-revealed Mercedes CLS Shooting Brake Concept? Better than finding a new iPhone in a bar. Glorious photos of the sexy wagon inside.
This sculpture previews the 2012 Mercedes CLS. Basically, it's looks like the current CLS with a lower rear, more exaggerated lines and the grille from the SLS AMG, all of which is a good thing.
According to AutoWeek, Mercedes has given the go-ahead to a wagon based on their sexy Mercedes Benz CLS. It'll undoubtedly be influenced by the shooting-brake ConceptFascination from Paris two years ago, something we'll have absolutely no problem with.
The car industry and the publications that serve it like order. They like to place things into categories and through doing so, exert some illusion of control over the marketplace. The BMW 3-series competes with the Audi A4. The Honda Accord competes with the Toyota Camry. Vehicles are priced to be a few dollars…
For 2009, Mercedes will be freshening the CLS sedan "coupe". Honestly, we still really can't tell the difference in the changes. The one change that's hard to miss is the addition of a new entry-level model, the CLS 280. But don't be misled by the numbers on the badge; the V6 will actually be a 3.0-liter unit. Peak…
Although we'd already heard the new Mercedes CLS AMG wouldn't be getting a power boost beyond 514 HP under the hood, now we're not only hearing what it'll officially look like, we're seeing it. Here's the first shots of the new four-door "coupe" from Daimler — helpfully making the rounds on the internet well before…