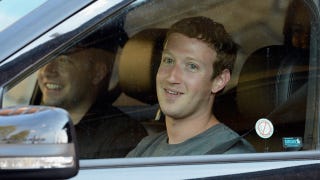 Mark Zuckerberg is considerably better at New Year's resolutions than you are—last year, he built his own home AI, voiced by Morgan Freeman, and ran all over the world. This year, Zuck's New Year's resolution is more noble, more selfless. He wants to get offline and immerse himself in the nitty-gritty land of IRL. The…
Mark Zuckerberg may finally be upgrading from his GTI. The Facebook founder and CEO may be on the exclusive list to take delivery of the first batch of Pagani Huayras headed for the U.S.
We're all pleased to know that Mark Zuckerberg drives a Volkswagen GTI with a stick, but our friends at Valleywag found this photo of him on his phone whilst behind the wheel using some boring new app (scroll down to the comments).