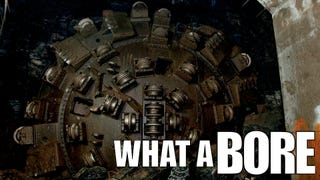 A massive steel worm with a bright patina of yellow paint covering its blade-edged face started its journey through Manhattan's Upper East Side on May 14th, 2010, chewing up 60 linear feet of earth each day. 17 months later, the Tunnel Boring Machine (TBM), stripped of its paint, has emerged — but now, instead of a…
Some people didn't believe the stunning snow scenes from Japan. What kind of monster machines do they use to clean roads from snowfall as tall as a four-story building? A Gundam plow machine? Now you can watch how they do it.
With the recent rescue of the 33 Chilean miners, we've got mining on the brain. How do they create those crazy tunnels deep in the earth? With these spinning, churning, crushing machines of mayhem and destruction, that's how.
Marcus Mumbach, of German website Bauforum24, "Das Portal fur Bau und Baumaschinen," ("Bau" means construction — you can probably figure out the rest), has helped complete the site's first Heavy Equipment Calendar for 2010. It's pure machine porn.