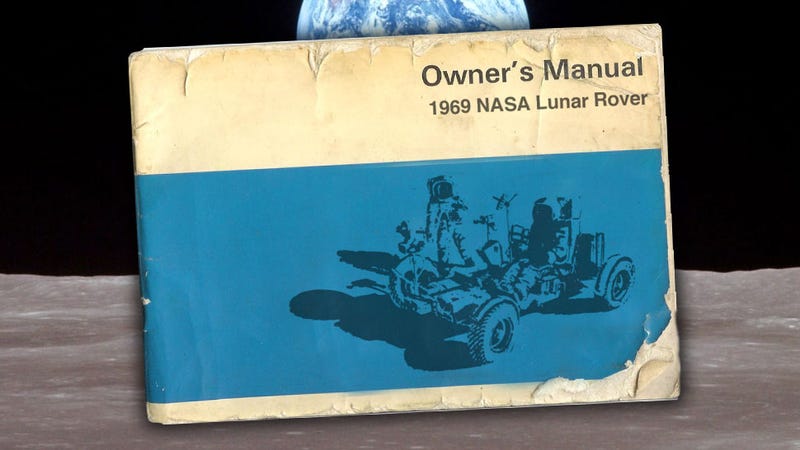 Right now, sitting unattended and unlocked, in a pretty empty neighborhood, are three of the most valuable cars ever built — the lunar rovers from the Apollo 15, 16, and 17 missions. Those sweet, sweet mesh-tire'd rides could be yours for the taking — if you only knew how to drive one. That's where we can help.
Cars –- they aren't just for Earth anymore! Proving that America still has mad space exploration skills, NASA sent a highly advanced roving vehicle to Mars last week to research conditions on the Red Planet. But while the Curiosity has gotten a great deal of attention in the news lately, it isn't the first time we've…
Editor's Note: This is the first of a new Jalopnik series called "Objects In Motion" where we pose car-related questions to our on-call physicist, Dr. Stephen Granade. This week we're asking him how to convert a car to work on the moon. —Ed.
NASA Engineers put on a show for fans last week, hooning two brand-new Lunar Electric Rovers in public. The Rover's 12 pivoting wheels allow it to drive "crab-style." That's NASA speak for sideways.
Amidst all the hullabaloo covering the new Presidential limo earlier this week, we managed to miss the live unveiling of NASA's latest two-man, pressurized, tweel-equipped, all-electric moon rover called the Lunar Electric Rover.
NASA today released photos of their strange-but-functional next-generation lunar rover concept: the Small Pressurized Rover. Built on the
NASA Chariot
chassis, the futuristic rover is like a covered wagon for exploring new frontiers of the lunar environment. The SPR can be driven from inside without the need for space…
"Now, now I wanna be/On the edge of the land clawing out at the sea/And we could get acoustic guitars and play in the ruins of the world today."
Or we could just go drive around on the freakin' moon.
We love vehicles with tires made from metal mesh. And, hey, the Lunar Rover was electric-powered, so it's eco-friendly (though for that real green feeling you might want to replace the batteries with rechargeable units). The link below takes you to a super-cool panorama of the Apollo 16 landing site, featuring the…