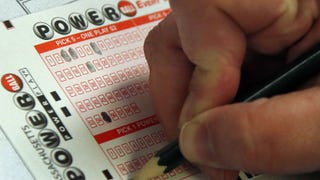 As car enthusiasts, we all have what I call "the list." The list of dream cars we would buy if we got some massive windfall of money. I know the first two cars on my list are an E63 wagon and probably a 911 GTS. A Washington state woman who won a $90 million dollar jackpot had no such list, and bought a Subaru.
Your chances of winning a big lottery jackpot like the Mega Millions are somewhere around 1 in 135 million. But what are your odds of winning if you get ALL THE LOTTERY TICKETS because you stole them when you rammed your car into a convenience store?
The United Arab Emirates is the land of the supercars. They even give them out in malls, as one extraordinarily lucky cab driver found out this week when he won a $ 204,028 (Dh750,000) Gallardo LP550-2 in a local lottery.
An Ohio woman won $8,000 on a lottery TV show and then went to a bar to celebrate. Walking home from the bar she was struck by a car and killed. No joke here, it's just really sad. [WJW-TV]
By way of Toyota's own Open Road Blog is word of a new scam using Toyota's name in vain to obtain financial info for use in identity theft and raiding bank accounts. The scam involves a letter and sometimes an included check branded with Toyota's logo. A couple of different forms of the scam are circulating — one of…
David Sneath, a longtime Ford parts warehouseman out of Livonia, hit the $136,000,000 Mega Millions jackpot on Tuesday. Rather than simply announcing that he planned to drop his job like a monkey dropping a hot penny and embark on a whirlwind squanderathon that will leave future generations of Livonians speaking of…
This Hummer H3 is built from $35,000 in losing lottery tickets. No sheet metal here, folks. The piece is by Brooklyn-based artists Adam Eckstrom and Lauren Was and it's entitled Ghost of a Dream. The tickets came from local bodegas, where they were discarded by unlucky patrons.