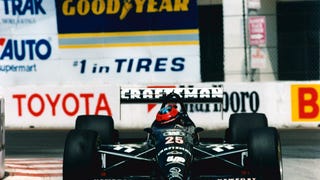 Rumours have turned into more or less believable financial figures recently how F1 could take Long Beach back. These mills include some investors you might have thought of or you had wished you have. From the race fan's perspective that doesn't really matter. What matters is whether the so-fragile organisation of…
Christian Slater, and Keanu Reeves during press practice for this past weekend's Toyota Pro/Celebrity Race. Say it with us: There is no spoon apex. Photo Credit: Frederick M. Brown/Getty Images.
Unless you live under a rock, you saw Travis Pastrana ring in 2010 by launching his Subaru rally car 269 feet across Long Beach Harbor at 95 MPH. Now here's the jump in high-res time lapse and high-def video glory.
A brand-new Boeing C-17 cargo plane fuselage was trucked out of Long Beach, California last night via the Pacific Coast Highway to a ship waiting to transport the 50-ton plane to Virginia for training use. Video below.
The one and only Mister Cooper got together with Señor Jalopy and belly-tank Bobby to hit a Model T swap meet in the fine city of Long Beach. As one of the few art critics Los Jalops intrinsically respect — as he himself has a bit of the old artist in him — we dig the man's take on the inherent majesty of the layout…
Long time Jalop lurker and new buddy John spotted a BMW 1-Series on the streets of Long Beach, sans badging, and nabbed it by cameraphone.
Although a new, 1-Series coupe is reportedly headed this way, it won't likely be a hatch like this one. (It'll be the one with the ). Some company man's probably just having a…
In San Pedro there is problem. And the problem is transport. We hammer on this point like Sweet Peet on his "product, product, product" mantra, but the movement of goods in and out of the harbor has created a massive air-pollution problem. One application where we see hybrid technology as especially beneficial is in…
Police say it was a road rage incident that led to a woman's car careening into a gas station in Long Beach, Calif yesterday. The car slammed into another pump before starting a fire. Neither she nor a passenger were injured, but video of the incident from CNN shows the driver of another car, while uninjured himself,…
The other day, Bumbeck said to us, "Man, I may as well just go back to smoking," in reference to the air quality in LA. He's up in the hills, while we're at the tip of the Palos Verdes Peninsula. We're also three blocks from the Port of Los Angeles, which, combined with the Port of Long Beach, create the busiest port…
"Scream for me Long Beach! Scream for me Long Beach! The Graf Zeppelin!" Okay, maybe those weren't Bruce Dickinson's exact words, and maybe there won't be any dirigibles in attendance (although the Goodyear Blimp flew over an hour or two ago, and Long Beach is the next town south of us here in Pedro), but the…
Beer, babes and Bad Religion. Kind of an incongruous combination, but that's the lineup for Saturday night after the Long Beach GP KROQ's Rock 'n' Roar show, followed by the Tecate Miss Toyota Grand Prix of Long Beach pageant. Still, we caught BR in Austin a year and a half ago, and they turned in the best set we've…