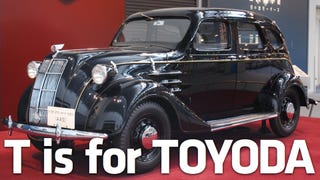 Sakichi Toyoda was born in Japan 145 years ago today on February 14th, 1867. By all accounts a hard-working entrepreneur, Toyoda's greatest success was building a small business manufacturing textile looms. That business ended up growing into a company that, for two years beginning in 2008, became the world's largest…
When Chrysler spun-off trucks into their own Ram brand it created a problem for Dodge: The logo is a ram. Our sources claim Dodge plans to kill the "ram" in a new logo that'll likely look like this.
Artist Timothy Raines focuses much of his talent on automobile logos in his series "Brand As Art." He makes the Cavillino in these works Rampante and spreads Bentley's wings with a triptych. Glorious and gorgeous!
We know where brand logos come from and what they mean, but what did they look like when they were babies? Thanks to Brazilian ad agency Dentsu working for Minichamps, a die-cast scale model company, we now know what the toddler versions of logos from Lamborghini, Ferrari, Maserati and Jaguar all look like. Wait — why…
Microsoft and BMW are both companies that have been willing to bend to governmental pressure to move product, but we don't see the companies abiding by the logo above from China's HuaTai Group. The company is about to launch a new line of SUV's at the Beijing Motor Show and has been purchasing expensive billboard…
Because they are the kings of all things neat, Neatorama took a look at the neat history of the big boys in auto manufacturing and how they came to develop their sometimes odd logos. The Ford and BMW logos are two that have stayed more or less the same over their respective lifetimes; Buick and Renault, by contrast,…
Even though a recent trend with emblems is to use them as supersized chrome kitsch to draw attention away from an appealingly boring design, once upon a time they actually meant something. Like a family crest, most Automotive emblems represent something important to the maker—something historically important, ideals…