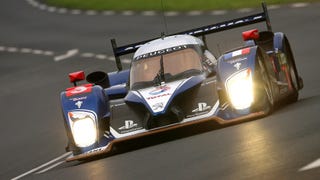 The ongoing battle between Audi and Peugeot at Le Mans and in other international endurance events has defined the sport, but the company says they're ending the program effective now. This means no 2012 Le Mans showdown.
Spoiler alert: Awesome race cars are even more awesome at Laguna Seca. It's a photographer's paradise and we sent the inimitable Brad Fox to last weekend's American Le Mans Series race at Laguna Seca to bring you enough grid girls, engine porn, and ferocious race cars to keep your spank bank wallpaper folder stocked…
Audi R10 TDI, Road America, 2006. I was halfway into a piece of pie and nearly missed the leaders coming around. Yanked the camera up and didn't even look through the viewfinder. I bought a lottery ticket the same day.
The young Aston Martin Le Mans racing team will be making its Japanese debut on Halloween with its hot Gulf Oil liveried LMP1. Given the October 31st running of the event, we were hoping for something a bit spookier.
Based on the race-proven
908 HDi
LMP racer, the new Peugeot 908 HY adds electric power to the already potent mix in the form of an 80 HP gear-driven electric motor/generator that replaces the starter motor on the standard car. Juice is stored in 10 lithium-ion battery packs strategically placed in several locations to…
Obsessive regulations-reader John calls attention to an interesting tidbit in the ACO's new rules for the LMP classes:
Mulsanne's Corner (where've you been all our lives) is reporting a rumor — from a reliable source, natch — that Audi's next Le Mans Prototype racer could be powered by a diesel V12. Yes, we were shocked too — considering the propensity of diesels to implode under extreme duress (like, say, a really long race). The…