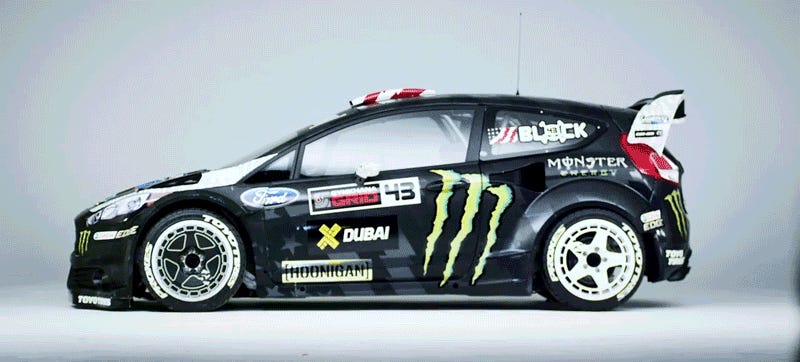 Gymkhana 8 comes out in a week, with the same Ken Block sliding the same 650 horsepower AWD Fiesta and this totally new reflective paint scheme that wait hold on this looks awesome.
Porsche isn't the only team running a nod to Le Mans' past this year. Nissan is here to show that they're not total newbies to endurance racing by branding its latest LMP1-class racer in its classic Group C R90C colors. Watch this awesome time lapse of the #21 car being assembled and dressed up as the ultimate Nissan.

I found this when looking for a photo of the Porsche 962 for today's TMS, can you find any other examples of this awesome Tic Tac livery? Any other forgotten liveries?
ALMS gets more American later this year with the return of the Viper. Specifically, the SRT Viper GTS-R. Now it's got a livery, as shown in this drawing courtesy of SRT President Ralph Gilles. They were just revealed so you're amongst the first to see them.
The gorgeous Audi R18 TDI's prepping to take on Peugeot at the 24 Hours Le Mans, which means it needed a racing suit. What do you think of the new livery? Is the silver-on-carbon a nice evolution of the old R15 look or is it forgettable?
So what if the Mercedes SLS AMG has no specific racing pedigree, nor association with the famed Gulf Oil racing livery's long history of victory and scary imitations? As long as this Gulf-blue SLS AMG only has a dash of orange, we approve.
With Ford looking to fill the void left by the Lincoln Town Car in the livery and limousine market, Ford's hoping the Lincoln MKT crossover can do it. Even for hearses. Here's the full story on who made this one.
The Porsche Cayman Interseries is one of our favorite small racing programs because it requires its obnoxiously wealthy owner/drivers to use preselected classic liveries. Rothmans! Gulf Oil! Marlboro! How many can you spot?
Yesterday at Silverstone, the flying Dutchteam, Spyker MF1, revealed the Formula One livery for its M16 racers. The scheme will combine The Netherlands' national color of orange with Spyker's adopted silver. The colors will fly on October 1st, when the team takes over where Midland left off at the Chinese Grand Prix.…