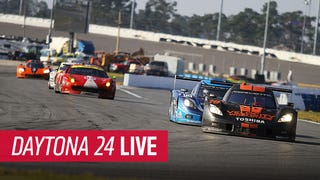 The Rolex 24 Hours of Daytona is now officially underway, and that means you have a full day to ogle everything from mid-engine Corvettes to insane diesel Mazda sedans as they blitz around the Daytona International Speedway.
Get all the Detroit Auto Show news, as it happens, from our hand-picked Jalopnik-friendly autojournos at the Twitter-powered Jalopnik liveblog. Also, find out where to get the best auto show mimosas. [Tweetlopnik]
Want to watch the press briefing for GM's viability plan? Watch it below the jump and comment here live starting...umm...right now!
Well, the numbers are out and things look both good and bad for FoMoCo. As we told you earlier, Henry Ford's baby is seeing things go from bad to worse on the money-makin' front here in North America. On the brighter side of life, they're losing significantly less money overall on a global level. What's this mean…
Well, the gang's all here for a FoMoCo earnings conference call this morning that I expect to be lossgastic. We're expecting to hear from Alan "New Guy" Mulally, the man-with-a-plan hired in September to captain this plane with an engine fire. We'll also here from Don "What Me Worry?" LeClair, the Chief French Puff…

After last week and the very successful debacle liveblog of the Ford earnings call...who are we kidding, the format was terrible. This time it's different. We swear! This time we're going to try to make it bigger, bolder and better.Thus, we've got this...the General Motors earnings call liveblog! So click the jump…