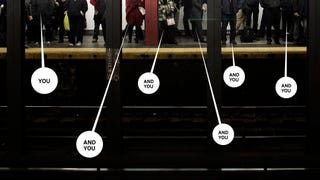 It's hot. The subways are crowded. People are peevish, sweating, and on edge. At times like this— when the social fabric of the city seems to hang by the thinnest of threads—it's important to relax, take a deep breath, and contemplate exactly who you hate in this godforsaken underground tunnel maze, and why.
There are laws preventing automakers from making outrageous and false promises about their vehicles — but these laws don't apply to car names. With the help of our readers we've identified the ten most optimistic car names of all time.
In honor of Midwest deer-hunting season — and because we blubbered like a little girl during Bambi — we bring you this (mostly) blood-free gallery of lovable vehicle-deer moments. Yeah, it's random, but so what? Happy Monday!