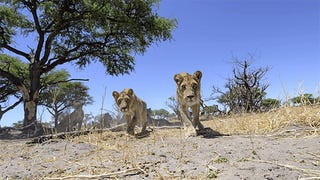 Arab Motors TV and the Gold Rush Rally have unveiled this image of Ferrari's new security system consisting of a lion that sits on top of your car. That's it. Just a lion on your Ferrari.
...although maybe they just need
a sidecar
for 'em to . [ via ]
The other day, we were IM'ing with faithful commenter Punkey (a man who knows his business better than we did when were his age, for sure), talking about various tracks in California. He's a SoCal boy, so we said, "Well, you had one of the fastest dragstrips in the nation right in your own backyard."