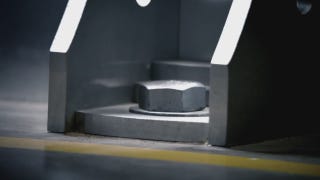 Appearance-wise, the 2013 Lexus GS has actually grown on me. I can't constantly ding Toyota/Lexus for being beige without acknowledging their new luxo-cruiser gives me a slight tingle in my trouser area. The same can't be said for their first-ever Super Bowl ad.
I made a lot of jokes about the Lexus LF-Gh concept, which looks like the sound you make if you attempt to pronounce the name phonetically. I take it all back. Interesting and ugly is better than just plain dull, which is what spy photos reveal the 2013 Lexus GS is.
Toyota plans to recall approximately 270,000 Lexus and Toyota models over engines that could stall due to defective valve springs. Soon-to-be recalled models include the Lexus GS and LS, and Toyota Crown. [WSJ]
Toyota's taken a Lexus GS, dropped on a bunch of F-Sport accessories and painted it a metallic brown for SEMA. The car looks the F-in' part, although no word on whether the engine upgrades are F-sporty. Still, it is brown.
If you have a Lexus IS Convertible or GS and still want to look like you're driving a Lexus, but not the Lexus IS-F, you'll soon be able to upgrade with official "F-Sport" parts.
Apparently, the V6 version of the Toyota Camry, a long-time resident to Consumer Reports' "Annual Car Reliability Survey," is no longer welcome around those parts. And it's not just the Camry, but also the new bigger-than-big four-wheel-drive V8-powered Toyota Tundra and the Lexus Gs. All three of these vehicles…