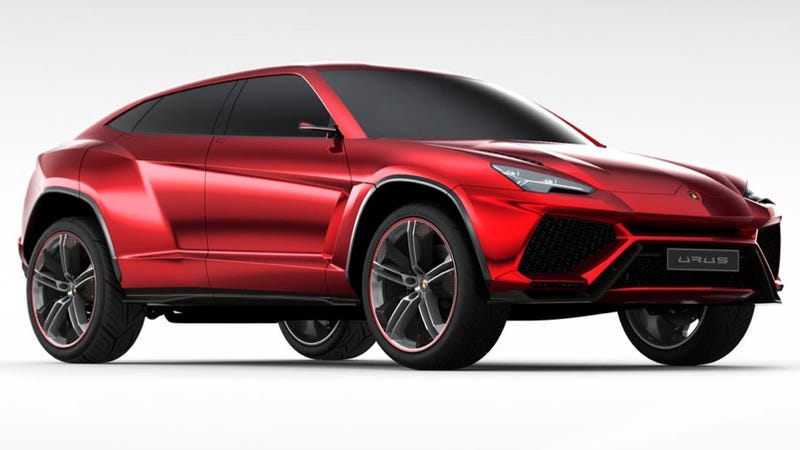 The latest from Sant'Agata, the Huracan LP 610-4 Spyder, has got a soft top and a loud V10. It'll be great. Now let's just move on, because the Urus SUV is set to be ready in 2018 to most likely be their first turbocharged and hybrid car. And here's why building it will be Lamborghini's biggest challenge yet.

Not to sound like a cranky old man, but it's a strange world we live in that a Lamborghini – a brand so steeped in Italian heritage despite being owned by Audi for the last decade and a half – could be built in Slovakia. But then it's the Lamborghini Urus we're talking about, the company's upcoming SUV.
Does this SUV concept from Chinese carmaker Yema remind you of anything? Can't put your finger on it? That's because it's ripping off the Lamborghini Urus, a car which hasn't been built.
More news tonight from Lamborghini's big 50th anniversary shindig in Italy besides the insane Ecosta concept: the Lamborghini Urus SUV has apparently been confirmed for production. Exciting news for people everywhere with more money than taste.
The Urus looks awful, is basically the same car as the revolting Bentley EXP 9F and, seriously, do we really need yet another SUV masquerading as a supercar? All valid points, but the Urus has a saving grace. It's a Lamborghini and all Lamborghinis are silly in a good way.
This is the Morning Shift, our one-stop daily roundup of all the auto news that's actually important — all in one place at 9:00 AM. Or, you could spend all day waiting for other sites to parcel it out to you one story at a time. Isn't your time more important?
We already know that Lamborghini is making an SUV, we think it'll be called the Urus, and now Evo Magazine has what looks like the first picture and spec details of the Raging Bull's new cash cow.
This invitation to the unveiling at the upcoming Beijing Motor Show provides definitive proof that the much-discussed Lamborghini SUV — possibly named Lamborghini Urus — is really happening.
We know the now-confirmed Lamborghini SUV will premiere at this year's Beijing Motor Show, but the Chinese media is slapping down a few interesting details including the possible name: Urus. You know, as in the mother of bulls.
Jalopnik reader Kooper is just as sick of the jigsaw-like puzzle piece reveal on the new four-door Lamborghini Urus as we are. The only difference is he's done something about it — attempting to put this puzzle together for us with his own take on what the rear end's going to look like. Now, if only he could have done…
For those of you out there waiting patiently for yet another teaser image of the Lamborghini Urus concept, set to debut next week at the Paris Motor Show, today's image is a tail light and a trunk cut-line. What?! A trunk on a Lamborghini? Yes indeed, and one with a pretty low lift-over height at that. Take a note of…