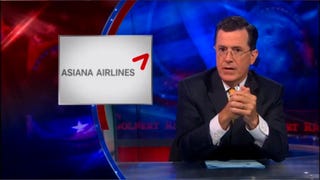 Stephen Colbert, America's last hero, is the latest pundit to come out swinging over the ridiculous pilot names announced on air by Oakland TV station KTVU after the Asiana Airlines Flight 214 disaster. He's not happy, people!
Speaking of Asiana Airlines Flight 214, the National Transportation Safety Board intern who confirmed the false, racist Asian-sounding names of the pilots to an Oakland TV station has been fired. Did he really expect to keep his job after that?
Yes, KTVU made a mistake with the racist prank names they aired as actual members of Asiana flight 214's crew. Now, Taiwanese animators have released their own rebuttal. And if you thought that the original mistake was racist, well, you ain't seen nothing yet.