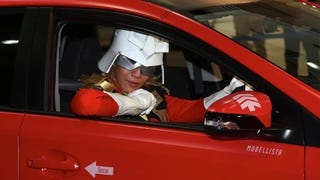 Perhaps! There are lots of nerdy cars, but damn, this is pretty nerdy. This Toyota Auris has been customized in the image of Gundam character Char Aznable. The concept car was shown at a recent hobby event outside Tokyo.
Surprised? Shocked? Eh, not really? At the China Joy gaming event in Shanghai, Gran Turismo creator Kazunori Yamauchi once again stated that work on Gran Turismo 6 shortly after GT5 finished (something he told Kotaku back in 2010).
If you collect Japanese toy cars, you're well aware of the Pikachu toy car. This wasn't a one off dealio.