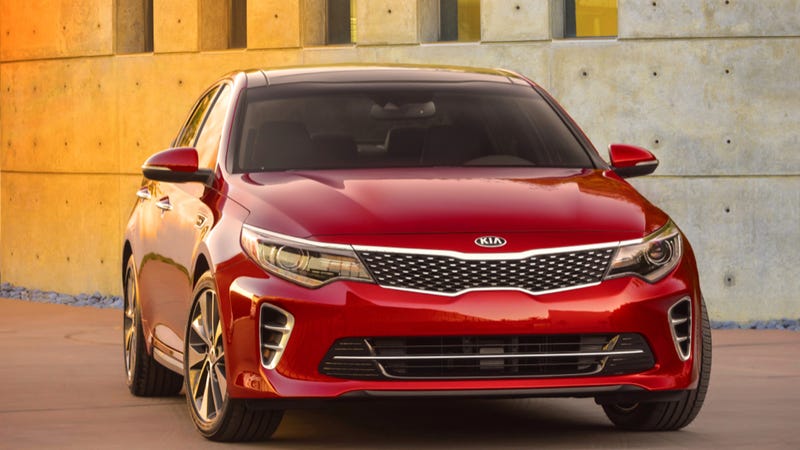 This is the only photo we have of the Kia Optima, which will officially bow at the New York Auto Show next week. Kia says it'll offer more space and technology than the outgoing model. All we know is that it'll look way better than any Kia has a right to.
America's most sort of exciting mid-sizer — the Kia Optima SX — just got better! Ok, not really better. Or faster. And there's no manual transmission. But it is more expensive in new SX Limited trim, almost reaching the $35,000 mark. What do you have to be high on to pay that for a mid-size sedan? Oh… right.
Kia's Super Bowl ad throws every testosterone-filled cliché at you in the hopes of that some coolness will rub off on its Optima family sedan. Why? Because this is how things are done now. The only way to surprise us now is with subtlety.
Cheaper yet better special effects mean even Kia can afford a sci-fi Super Bowl spot for the Optima that shames feature films more than seven years old. But c'mon, any car looks great when surrounded by a million Aztecs.
The 2011 Kia Optima will adopt the old American mantra of longer-lower-wider at its New York Auto Show debut. Also present? Some respectable, if derivative, styling; Pay no attention to the nicked Pontiac G8 fender vents.
Since the Hyundai Sonata's new this year, its platform-sibling, the Kia Optima, gets an update too. It's headed to the New York Auto Show, where auto journalists will undoubtedly use the Optima to opine about how quickly Kia's become noteworthy.
You know the Kia Optima? Not really, no? The Optima is what you would buy because you just didn't like the Suzuki Forenza. Though a mid-cycle refreshment, it's a definite improvement over the "only as a rental car" original design. There's also more power for the four-cylinder engine, which is now nearly as powerful…