Yes, that's really Kanye West, as unofficially confirmed by eavesdropping on airline staff, sitting about three feet away from me as I flew to Milan to take part (as a guest of Jaguar) in the Mille Miglia. I have no idea what Mr.West is doing here, but if you're curious, here's what he's like to travel next to. It's…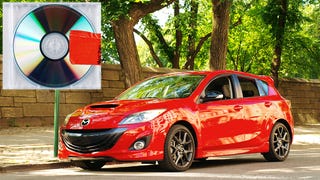 I had three important questions about Kanye's new album: does it sound good in the car, the place where people are probably going to listen to it the most? Am I missing something by only listening to it on headphones? Is it fun to listen to with a coworker who absolutely hates it? Yes, yes, and yes.
Kanye and Kim Kardashian wanted a sweet ride for Halloween, so they rented a gold Aventador from Prestige Imports Miami. This appears to be that very car, whipping hard and powersliding around the docks. Badass.
Hip-Hop star Kanye West's black Porsche Panamera Turbo was destroyed in Hawaii this weekend. The car was in the care of West's cousin while Kanye was off the Island and reported stolen after the crash. Hmm... [KLTV]

A lawsuit filed in LA Superior Court yesterday alleges Kanye West failed to pay for his $1,295 a month Mercedes G500 he signed a personal guarantee for back in 2002. Although the lease expired this past January, DaimlerChrysler Financial Services has seen no payments and no returned car, so they're looking for $53K…