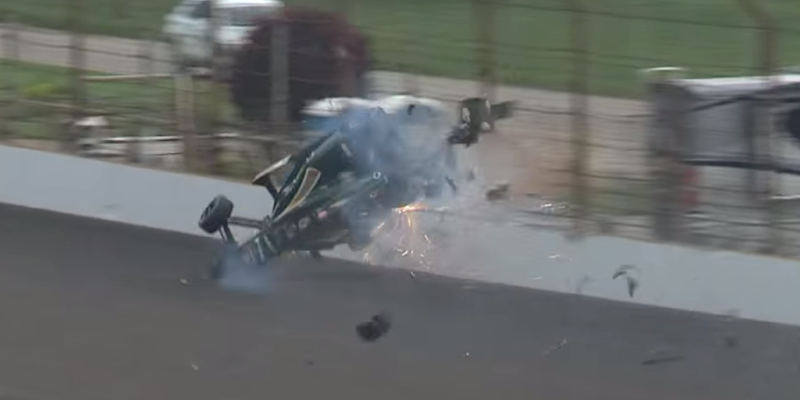 As the drivers of IndyCar prepare for their season-closing race at Sonoma Raceway, they likely do so with heavy hearts following the crash that claimed the life of Justin Wilson. So to honor him, they drove his car and their own across San Francisco's Golden Gate Bridge ahead of this race weekend. …
With any tragedy in motor racing, there are always calls to improve safety. Now one of the biggest debates in racing has been reignited by the death of IndyCar driver Justin Wilson: whether to phase out the open cockpit race cars found in Formula One, IndyCar and similar series in favor of cars with closed cockpits.…
IndyCar driver Justin Wilson's death yesterday at age 37 was tragic, unfortunate, and sad. But in what almost amounts to a testament to the kind of person he was, his organs were donated, and he has already saved the lives of six others.
It's more than an hour after the checkered flag at this year's Milwaukee IndyFest. It's been even longer since Justin Wilson's engine went up in flames, with a late-race mechanical failure sabotaging what could have been a runner-up finish to old Champ Car sparring partner Sebastien Bourdais at the classic one-mile…
IndyCar driver Justin Wilson succumbed to a head injury sustained in a wreck Sunday at Pocono Raceway, the Associated Press reports. Wilson was 37.
NASCAR driver and team co-owner Tony Stewart came forth with an incredible act of kindness after Justin Wilson's IndyCar crash yesterday. Stewart lent his private plane to reunite Wilson's family in Pennsylvania, where Wilson remains in intensive care after being struck in the head by a loose nosecone.…
Yesterday evening IndyCar driver Justin Wilson was airlifted to a hospital from Pocono Raceway after being struck in the head with a piece of debris during a race. As of the latest update, he remains in critical condition in a coma. Others in motorsports have shown an outpouring of support for Wilson and his family. …
Throughout the How To Drive Fast series, I've offered opinions based on the experience I've amassed during my 17-years behind the wheel. The whole basis of this column is to help you drive faster, and learn the tricks and techniques utilized in the quest for victory. But for this piece, I turned to my friends for…
A year before he became BMW's test driver in Formula One, Sebastian Vettel raced for the Spanish team Racing Engineering in the Spanish Formula 3 Championship. Team owner Alfonso de Orleans-Borbón has recalled for us meeting the young man who would become Formula One's youngest world champion. – Ed.